Our Club
What is CORBA?
CORBA is a not for profit organization dedicated to the support of mountain biking trails and activities in the Bloomington-Normal area. Our members are responsible for the maintenance of the mountain biking trails at Comlara Park near Hudson, IL. The club also serves as a social network promoting the sport of mountain biking, organizing events and trips, and encouraging education and camaraderie among a great group of mountain bikers of all ages and skill levels. Please join us!

How do I join CORBA?
A CORBA membership is for the calendar year and costs $20 Individual or $25 Family. Please choose one of the options below for joining CORBA.

Online option using PayPal (preferred):
$20 Individual CORBA Membership
$25 Family CORBA Membership
Mud Sweat & Gears
Information
Mud Sweat & Gears is a mountain bike race held at the Comlara park trails every year. It has categories for every rider from first timers to serious racers. There is a free kids race for those with young ones. It is held on a five mile lap of single and double track. The number of laps depends on the race category. Even if racing isn't your thing, come out and have a great time with us!
Proudly Supported by:
Details

2022 Race Location – Google Maps
Results
–YOUR NAME HERE–
Our Trails
About
CORBA's trail system is located at Comlara Park in Hudson Illinois, just north of Bloomington/ Normal Illinois. There are approximately 10-15 miles of mountain bike trails in the park. Trails range from beginner friendly trails to moderate level trails.

Trail Map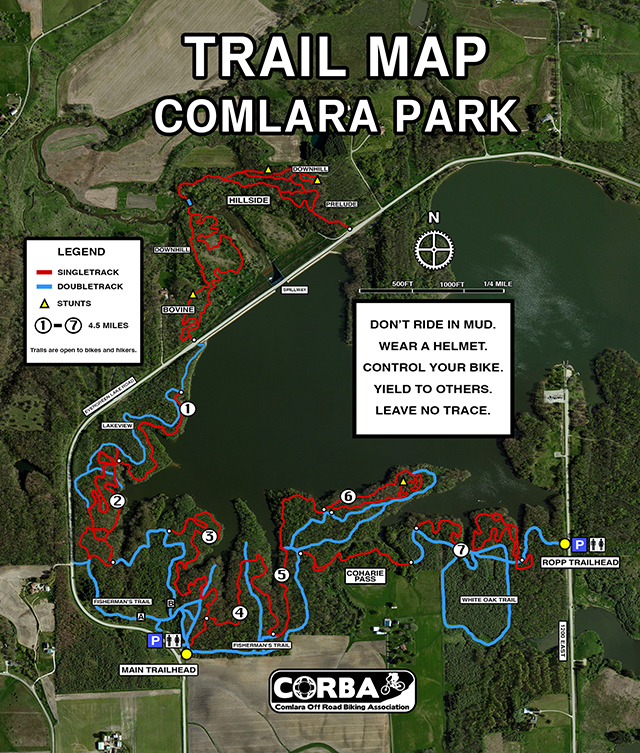 Sponsors
Neighboring Clubs
The International Mountain Bicycling Association (IMBA) is a 501 (c) 3 non-profit educational association whose mission is to create, enhance and preserve great mountain biking experiences.
International Mountain Bicycling Association – IMBA

Contact